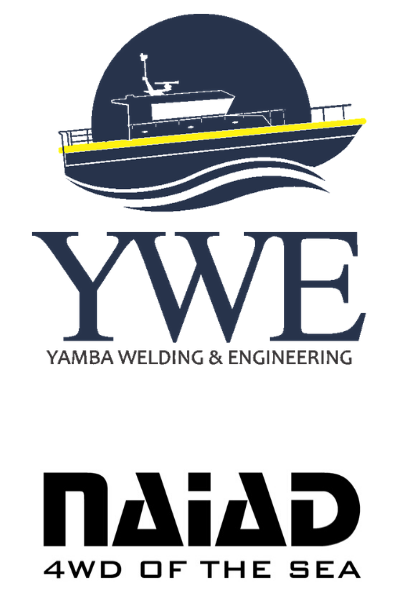 Yamba Welding & Engineering (YWE) is an Australian family owned and operated company in regional NSW.  YWE has been building aluminium vessels since 1974 and joined with Naiad Design in 2010 to build their Naiad RHIB's.  All vessel designs are Australian or NZ and are manufactured wholly within Australia.
YWE has been an integral part in working with Naiad to find solutions to supply the customer with products that will suit their operational requirements for vessels ranging from 4.3m to 23m.  These vessels have been specifically designed for military and para-military requirements, with robust aluminium construction and unique foam filled collar system, replacing the standard air collar, giving much more buoyancy, safety and longevity.
YWE has seen significant growth in the Rigid Inflatable vessels, having built for Police Forces around Australia, NSW Roads & Maritime Services, Rescue organisations, Australian Border Force, Australian Federal Police and recently completed two hydrographic survey vessels for RAN deployment. 
YWE just recently purchased Naiad, a worldwide marine design company both in Australia and overseas, which will further enhance its capabilities and will enable YWE to delve further into the commercial division.
The company has been working under a Quality Assurance system since 1997 and are Third Party Certified AS/NZS ISO 9001:2015 by Bureau Veritas.  All YWE trades people and apprentices are independently certified to the Australian Standards for welding and fabrication.  YWE currently employs 35 staff, 9 of those being young and mature age apprentices.