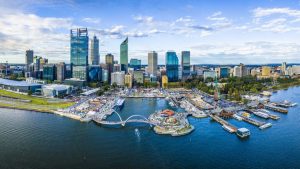 ACMG has partnered up with the WA Defence Review and is sponsoring the American Chamber of Commerce in Australia event in WA, held on the 24th October.
This unique event is focusing on the potential that exists for collaboration between two well-established industries in WA: The Defence and resources sectors.
The Commonwealth Government has entered into a period of reinvigorated Defence spending on new acquisitions, and investment into the development of game-changing capabilities. This may provide a catalyst for resources sector companies to enter the Defence supply chain, given the obvious industrial, technical and workforce synergies that are germane to both sectors.
The sponsored event will be held on 24th October, between 7am-9am in Parmelia Hilton Hotel, Perth. 
All ACMG members are welcome to attend, to maximise their company's capabilities in those two sectors. For more information, please visit the American Chamber of Commerce website.