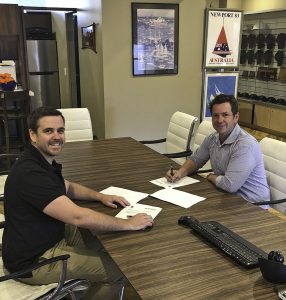 The two prominent, family-owned marine entities have recently signed a Joint Venture agreement. The essence is in harnessing the power, assets and skills that each brings, and already it has proven to be a great success.
Speaking afterwards, Sydney City Marine's (SCM), Brenton Fischer, commented, "We provide the facility, and they do the skilled engineering, fabricating, fitting and turning, as well as mechanical works. They will now have a very capable machine and workshop on our site, with their more serious engineering shop just a little further up the road."
"It is like the meeting of the minds, and even more importantly the skills, for two well-respected giants in their fields. It will be really good to begin working more closely than before with a group that shares the same 'get on with it' ethos that our customers all like and require."
In a way, the giant winch from a tugboat that has a 70-tonne bollard pull, seen here 'flying' through the sky symbolizes the opportunities. Previously it would have had to have been trucked off for specialist attention, or they would have had to send people to SCM to work on it, and bring all their own equipment to achieve the outcome. Now it is all based out of the one locale, and this will have both productivity and cost benefits.
Luke Halliday is the latest custodian of the 165-year-old Halliday Engineering conglomerate. He commented, "For us, it is a match made in heaven. We have always had engineering skills; yet have had to rely on others for space, which meant we had to work a lot off site. This meant a lot of travelling up and down the coast, and often the yards we went to did not have the resources and capabilities we require. This is no longer the case."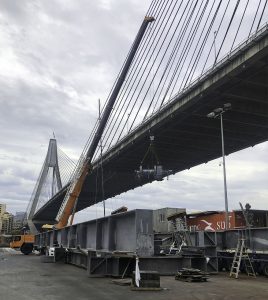 "We work a lot in the top tier of job tasks, and SCM are aligned in this space as well. When the larger vessels require attention, and for the job to be done correctly, we are proud that they turn to us to ensure their peace of mind."
"By having world class lifting, blasting, and painting to add to our engineering, it really was a case of what we left in the fridge they were able to bring to the table."
"Our full facility is just 500m away with all of our fabrication, milling, boring, turning, and general machining equipment, so in combining it all we can honestly say that no one else has these capabilities this close to the market, and Sydney's CBD."
Interestingly, once upon a time Halliday's were charged with looking after the turning gear of the now defunct Rozelle Bridge that is right out the front of Sydney City Marine, and adjacent to the far more imposing Anzac Bridge. In a way, it is all very apt, for here the new scenario brings them right back to the water's edge; full circle as it were.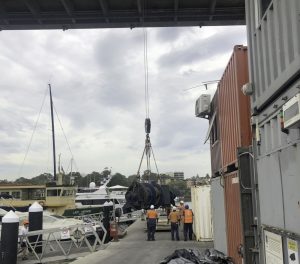 "Both families are proud of their long histories, and are looking forward to forging a new one together. We are certainly making a name for ourselves in the superyacht sector, and a lot of the time it is about overhauling propulsion systems, making new rudder bearings, upgrades, couplings, links, redesigns, and new shafts. We are building longevity in, and bringing back reliability. We do full design work, with the accordant Quality Assurance to go with it. Because if you have to cut a hole in a boat, then you want the correct welding procedures in place when you go to sew her back up!"
You can find Sydney City Marine here, and Halliday Engineering here, or if you are coming from the water, just duck your nose around that famous bridge in Rozelle.