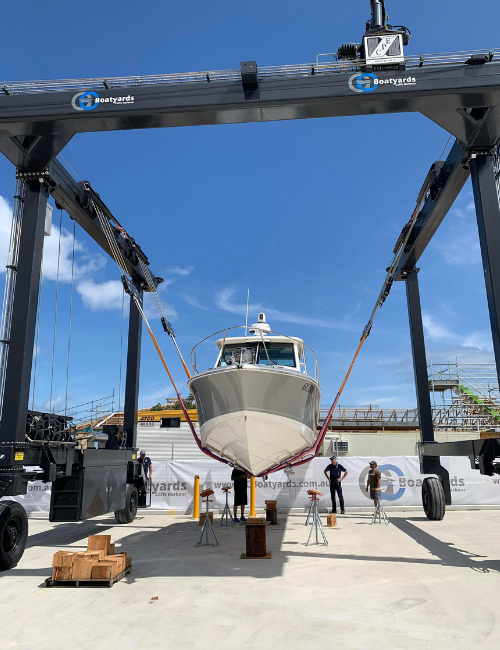 As part of the Coffs Harbour Marine Precinct Project, boatyard managers GCBoatyards are excited to announce the opening of a new boatyard facility serving the Coffs Harbour boating community. Located along Marina Drive, adjacent to the 168-berth Coffs Harbour International Marina, it is conveniently located at the midway point between Sydney and Gold Coast.
This new facility is serviced by GCBoatyards' professional onsite team and features a 75- tonne marine travel lift (approx. capacity – 75ft long, 7m wide), expansive new handstand area with a capacity of up to 15 boats, and services including water blasting, onsite antifouling and support of local hand-picked marine trades. GCBoatyards Business Development Manager Luke McCaul said the boatyard facility would deliver a range of benefits for commercial and private vessels in Coffs Harbour as well as the boating community travelling up and down the coast. 'We are very keen to provide a good quality boatyard service to the local boating community who have been without a repair facility in the region for 8 years.
The team on site have already been lifting multiple boats in the first two weeks of operation and are busy providing quotes to interested customers within and outside of the Coffs Harbour region. 'We anticipate that the new boatyard in Coffs Harbour will be in demand given its location halfway between Sydney and the Gold Coast, perfect for boating customers to pull in as part of their annual migration North. The GCBoatyards onsite team have a strong background with key team members having prior marine experience including the Operations Manager Mark Mulholland who has 15 years of experience as a qualified automotive and marine mechanic with National Marine
Services and Enterprise Marine.
Michael Fielding has 30 years of experience in spray painting and crane/machine operation and Greg Casper has a trade background and grew up around boats, yards and various marine trades. With a strong local team, GCBoatyards have also enlisted the support of several reputable marine suppliers to provide quality and technical training to the team to ensure the best possible maintenance service is provided to boatyard customers. These companies include International Paints, Jotun Paints, Propspeed, All Marine Spares, Marine Trade Supplies, Sam Allen Wholesale & Logix Group.
Member for Coffs Harbour Gurmesh Singh said he was pleased to announce the travel lift had been through final testing and is now in operation. "This new equipment will reduce the need for the use of heavy equipment as it can move larger vessels which makes servicing commercial and private boats safer and more efficient," Mr Singh said.
For all boat lift and servicing enquiries, please contact the GCBoatyards team on (02) 6516 2209 or email info@gcby.com.au. Bookings can also be made through the GCBoatyards website on www.gcboatyards.com.au/enquire. Marine trades interested in providing specialist support to the boatyards, please get in touch with our team or enquire via our website.