INTRODUCING THE AUSTRALIAN MAJOR HAUL OUT, REFIT AND MAINTENANCE DIRECTORY
The Australian Commercial Marine Group (ACMG) is pleased to announce the release of a new publication on haul out facilities in Australia. This newly released directory delivers detailed information on marine service providers with major haul out capabilities located around Australia who service commercial vessels.
Presented on a state-by-state basis with location, types and number of lift options, it also includes key information such as maximum tonnage and length capacities. The focus of the directory is on service providers with haul out capabilities of approximately 30 tonne or over but in more remote areas, this parameter acts as a guideline only. The directory will provide easy access to core details for vessel operators when planning to haul out for refit and maintenance work.
To visit the online version of the Australian Major Haul Out, Refit and Maintenance Directory, please click here or on the image below.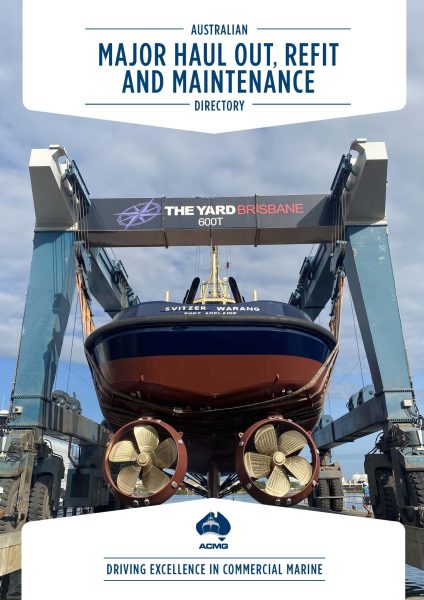 The directory's list of service providers with lifting capabilities will continue to grow as ACMG further expands our research and capture of major facilities available in Australia. Additional marine service providers with lifting capabilities will be included in future editions as will any upgrades or expansions in haul out services for those already included. 
For those companies wishing to be considered for inclusion in later editions, please visit the online form available here, complete your details accordingly and click on submit. 
For further enquiries, please email info@aimex.asn.au