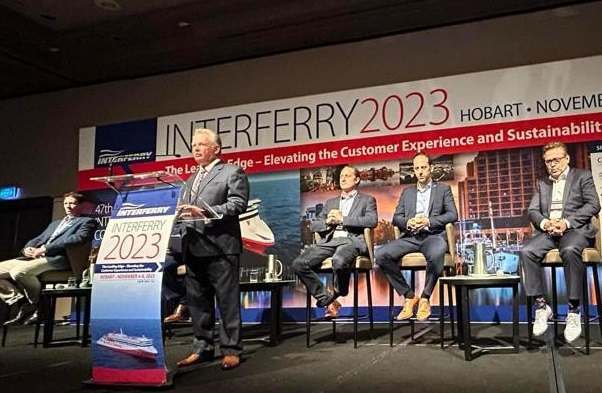 The annual Interferry 2023 Conference confirmed its position yet again as the pinnacle networking event within the global ferry industry.  Against the backdrop of the picturesque Tasmanian landscape, attendees engaged in meaningful discussions, sharing insights and strategies crucial for steering the global ferry industry into a dynamic and sustainable future.
Held in Hobart, Tasmania, from 4-8 November, following its cancellation in 2020 due to the global pandemic, this year's conference witnessed a collective enthusiasm to reconvene in the remote location renowned for its rich maritime history and vibrant ferry presence. 
Hosted by Spirit of Tasmania (TT-Line Pty Ltd), the operator of the iconic Bass Strait ferry service between Tasmania and mainland Australia, Interferry 47 delivered a comprehensive five-day program.  Conference delegates listened to a world class speakers' program which explored the theme – The Leading Edge, Elevating the Customer Experience and Sustainability, with a unique opportunity to network, learn and exchange ideas on the latest trends, challenges, and innovations in the global ferry sector.
Celebrated as one of their best attended conferences with over 400 delegates, this was a great achievement for Australia and Hobart.  With the only direct international flights arriving from New Zealand, it was a tremendous effort from the European and Northern American contingent. 
Amongst the member companies attending, Australian industry-based ferry organisations were well represented.  Among the members of Australian International Marine Export Group (AIMEX) and Australian Commercial Marine Group (ACMG), there was outstanding participation from both exhibitors and attendees, including:  Aus Ships Group, Austal Australia, Ayres Composite Panels, Hullbot, International Maritime Services (IMS), Logix Group, Marine Airflow International, NRMA Marine, One2Three Naval Architects, SeaLink Marine and Tourism, Spear Green Design, Tasmania Maritime Network, UES Marine, and Volvo Penta.
It was in this session that groundbreaking Australian made innovation was featured when Tom Loefler from Hullbot Australia took the stage to present – Saving Fuel Through Frequent Robotic Cleaning.  Tom delved into the capabilities of their autonomous hull-cleaning technology, powered by Hullbot's advanced camera-based autonomy.  This innovative solution not only ensures optimal hull conditions but also significantly mitigates the environmental footprint of marine vessels. By reducing fuel consumption and enhancing overall performance, Hullbot's technology plays a pivotal role in promoting sustainability within the maritime industry.
In response to the session, Tom Loefler stated: "It was great opportunity to be able to present our technology to the Interferry audience and receive so much positive customer engagement.  It was obvious that the industry understood the role our technology could play in the solution of reducing emissions and saving costs.  We look forward to deploying our robots on a range of Interferry members vessels throughout 2024."
Jessican Gatt of Logix Enterprises echoed Tom Loefler's sentiments, as she stated: "Interferry 2023 was our first experience of the annual convention. I was completely struck by the global ferry community who were friendly, generous with their time and all worked together to introduce their ideas, experiences and opportunities. As a service provider to this market, we welcomed the discussions and opportunities that arose."
She continued: "The focus of sustainability was particularly interesting, highlighting the available technologies and operations that are encouraging of sustainability via many avenues such as fuel alternatives, electrification, promotion of efficiencies and combating biofouling. The sharing of experiences with systems that have been tried and failed, identified deficits and the necessary gaps that need to be filled was constructive and will help to propel innovation."
The Technical Tour hosted a record 300 attendees who were provided with an exclusive opportunity to view the inner workings of Incat's shipyard, witnessing firsthand the cutting-edge development of their facilities and the chance to observe the vessel in various stages of construction.  Due to commence operations for the South American brand Buquebus in 2025, this groundbreaking vessel boasts a length of 130 meters and will accommodate an impressive 2,100 passengers and 226 vehicles. 
On a social level, the IMS Hobart Run Crew successfully returned for its tenth annual appearance this year against the backdrop of Hobart's scenic surroundings.  A valued tradition in the conference's social agenda, IMS in collaboration with Interferry, extended an invitation to all delegates to unite each morning to engage in physical activity with an opportunity to rejuvenate after the evening's gatherings.  Day one kicked off with an impressive 44 runners, and day three concluded with 20 runners, their largest group ever.  The IMS Hobart Run Crew objective of combining fitness with an opportunity to foster deeper networking connections, successfully enhanced the overall conference experience for attendees. 
Brad Marsden from Marine Airflow International described Interferry as a remarkable networking opportunity, which he highly recommended for anyone looking to expand their contacts and networking prospects.  He stated: "With a limited number of exhibitors and a gathering of over 400 delegates, attendees experienced phenomenal exposure ratio, avoiding the overwhelming competition found in larger conferences. The conference's informal design allowed for substantial engagement between exhibitors, sponsors, and delegates, with the multiple breaks enabling attendees to utilise breakout rooms to extend conversations. The morning walk or run as the sun rose provided a further informal opportunity to expand professional networks.  Top that off with the incredibly pretty city of Hobart, the great food and the magnificent weather experienced when there, it was an outstanding conference."
David Good, CEO of ACMG stated "AIMEX and ACMG's intention is to continue to attend Interferry, supporting our members who attend and exhibit.  In collaboration with the newly acquired CVA members, we intend to disseminate crucial information to all members who may be unable to allocate time for in-person attendance during future overseas events.  Furthermore, we have made an expression of interest on behalf of the City of Brisbane to host Interferry once again in Australia in 2031, aligning with the lead-up to the Summer Olympics."
The Interferry 2024 location was announced as Marrakesh, Morocco.  Hosted by FRS Iberia/Maroc and held from 26 – 30 October, the conference will again present an opportunity for Australian based commercial marine businesses to attend and connect with some of the world's largest global players in the international ferry industry.