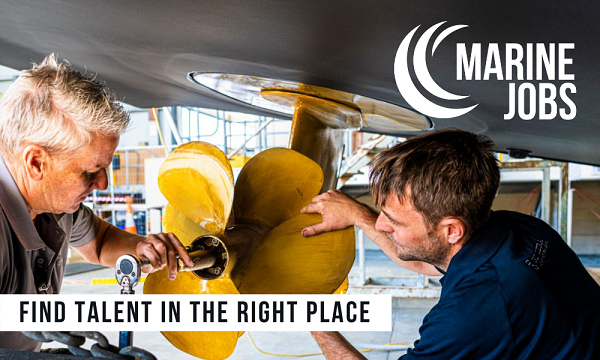 Travel and social distancing restrictions during the Covid-19 pandemic have contributed to the current rise in recreational and leisure boating activities. With business booming within the superyacht industry, it is has led to an increase in demand for skilled workers and new employment opportunities.  
Finding the right job opportunity in the marine industry has not always been easy until now with the new 'Marine Jobs' website launch. This unique online career centre is the new 'go-to website', with positions ranging from boat brokers to sailmakers to superyacht crew. Unlike other job search websites, it is specifically dedicated to the marine industry.  Set up as a joint venture by the Marina Industries Association (MIA) in partnership with the Boating Industry Association (BIA) and Superyacht Australia (SYA), Marine Jobs combines employers and job seekers within the marine industry in one dedicated online location for the first time.
CEO of Superyacht Australia, David Good, commented: "Australians are some of the most sought-after superyacht crew members, making up about 25% of all international crew or around 14,000, mostly young Australians. Their experience mustn't be completely lost to the marine industry when deciding to return home to Australia. Marine Jobs will be able to connect these experienced seafarers directly to marine employers, so this experience is harnessed and returned into the Australian marine industry."
Individuals with previous experience on superyachts interested in working in the marine industry will significantly benefit from this website as it offers a diverse array of jobs. Young Australian's finishing their studies and keen to pursue working opportunities aboard luxury superyachts will find the Marine Job website the perfect platform to source jobs and apprenticeships.
This new industry job platform provides more than employment opportunities. For those entering the workforce, Marine Jobs also offers supportive information on resumes and interviews. Job seekers can search for advice on writing a resume or tips for a successful interview. Career resources include information on apprenticeships and industry training.
This dedicated marine website will enable like-minded employers and potential employees to connect more directly than has ever previously been available.  Marine Jobs is powered by a specialist jobs board provider that delivers online recruitment solutions to over 3,000 industry associations worldwide. Marine Jobs can be accessed directly at www.marinejobs.org.au