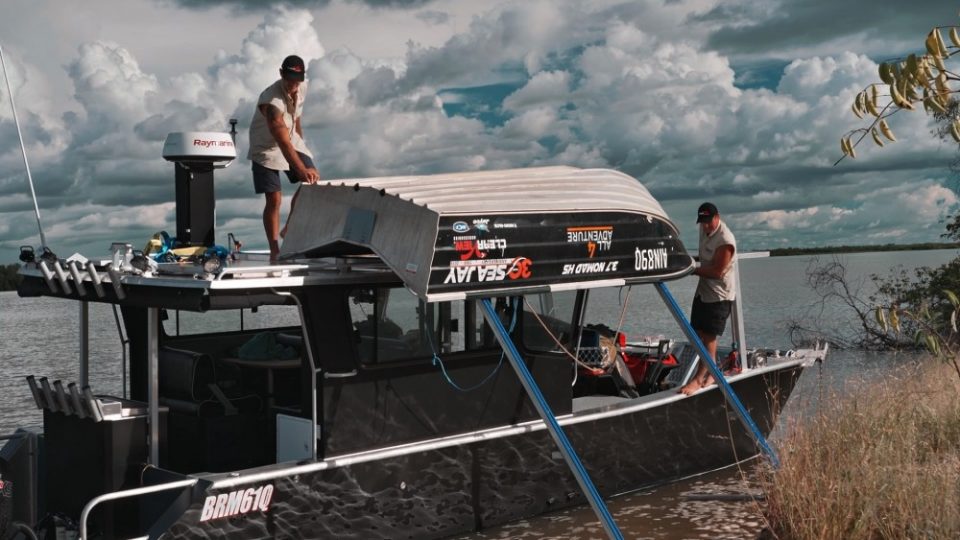 Hervey Bay-based boat builder BtB Marine has recently delivered an 8.5m fast landing craft purpose-built for the All 4 Adventure television series.
 The custom vessel will be featured on the Unleashed. The tv mini-series "Barging Through Karumba to Cooktown" follows Australian Adventure team Jase and Simon as they explore the top end of Australia in the vessel, pushing the boundaries of travel and visiting remote places unexplored and difficult to access.
The new landing craft has a beam of 2.95m and can carry a payload of 1.5 tonnes. The vessel is sturdy enough to carry a side by side 2-seater Polaris General and a Nomad HS 3.7 high side tender on the roof and all the owners' exploration and television production equipment in open water conditions. The client chose to add sponsors and enclosed aft pods to increase stability and buoyancy further.
Powered by twin Mercury Pro XS V8 200 hp outboards and a V-bottom planing hull, the vessel delivers a top speed of 40+ knots and a 750-litre fuel tank capacity has a range of 500 km at cruising speed. The landing craft V-bottom planning hull design has been particularly suited to many roles, including dive operations, cargo transportation and passenger transfers.
The cab arrangement on the vessel has been customised to ensure the vessel is fit for operating in extremely remote locations and still provide a degree of comfort for the crew, with kitchen, couch, maximised storage, shower, 200l freshwater storage, greywater collection tank, 2 x Dometic fridges and more.
The vessel is also fitted out with:
A full suite of Raymarine GPS navigation, sounder, & radar equipment with dual screens and VHF Radio
A Redarc charger and inverter system
Satphone
Custom-built tender rooftop boat loader
Bow door customised for the remote load on / load-off for all-terrain vehicles.
Front & rear Savwinch anchor winch systems
Fully customised BtB Marine trailer with 32 inch ROH wheels.
 "BtB Marine has always come from a philosophy of looking at better ways to build cost-effective vessels," said BtB Marine General Manager Chris Hough. "Reliability and practicality are paramount issues for vessels working in remote areas, and our vessels continually deliver minimal maintenance downtime for our clients. BtB Marine's vessels have been performing remarkably for many years in many locations right around Australia and then throughout the Pacific Island Nations. It has been an absolute pleasure to collaborate with Jase Andrews on this extraordinary project".
You can keep up to date with the adventures of the All 4 Adventure crew on Unleashed TV at https://unleashed.tv.
The Australian Marine industry recognised btB Marine's innovation skills and boat building capability in 2020. The company won both "The Australian Marine Industry Award for Innovation" and taking out the AusMarine award for the "Best Multi-Purpose Workboat".