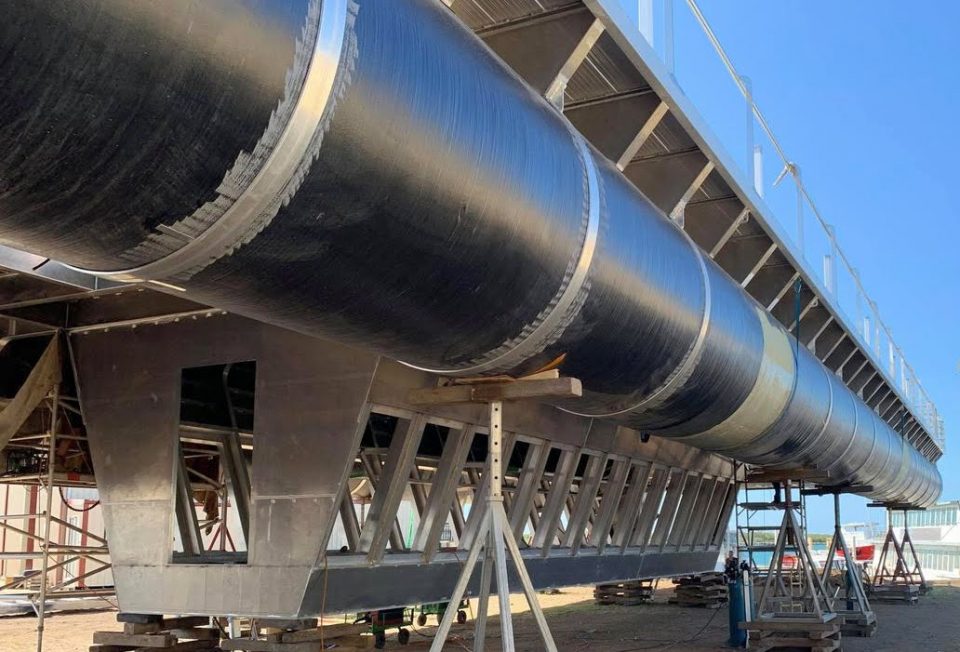 Sleeping underwater on the Great Barrier Reef will soon be a reality, thanks in part to an innovative boat builder. Hervey Bay-based BtB Marine has been involved in building a magnificent marine tourism masterpiece that will soon be wowing thousands of visitors to the Southern Great Barrier Reef with an absolutely unique experience.
The Lady Musgrave Experience "Lady Musgrave HQ" reef pontoon is 35 metres long, and will provide overnight glamping accommodation above deck for 16 guests and accommodation for 20 guests underwater in a glass-walled observatory, as well as a base for day trippers for snorkelling and scuba diving activities.
BtB Marine built the 14.5 metre long underwater observatory, 20m swim platform and observatory access staircases in their Hervey Bay workshop last year. The pontoon was then assembled, launched and fitted out in the Port of Bundaberg under the direction of Steve Foster from Oceaneer Marine Services and Site Manager Craig Foster.
Guests will be able to sleep in the underwater observatory, enjoying the sights and sounds of the great Barrier Reef at night. According to Chris Hough BtB Marine General Manager; "We're very excited that the massive underwater observatory and pontoon platforms we built for the Lady Musgrave HQ in our Hervey Bay workshop is now moored in the Lady Musgrave Island lagoon. Visitors will not only be able to enjoy snorkelling and diving on the Great Barrier reef, but will also be able to sleep overnight under the water and glamping-style on deck in luxury tents on this world-class facility. How good will that be?"
Lady Musgrave HQ is a three-level pontoon which is now nestled in the sheltered waters of Lady Musgrave Island Lagoon. With bookings open from October 2021, this is set to change guest experiences on the Southern Great Barrier Reef. The pontoon features the most sustainable and eco-friendly build in the world. Above the waterline, the innovative zero-impact design is completely solar and wind-powered, and below the waves, coral cultivation and Citizen Science programs give back to the world's greatest natural treasure. The sustainable tourism experience will have no footprint, with all waste going into holding tanks for transport back to the mainland.
"BtB Marine has always come from a philosophy of looking at innovative ways to build and operate ecologically sustainable vessels," said Chris. "Safety, reliability and practicality are paramount issues for vessels in remote locations. Our vessels have been performing remarkably for many years in many locations around Australia and
right throughout the Pacific Island Nations. It was an absolute pleasure to collaborate with Lady Musgrave Experience Managing Director Brett Lakey on this very special project".
BtB Marine's innovation skills and boat building capability were recognised by the Australian Marine industry in 2020, with the company winning both "The Australian Marine Industry Award for Innovation" and also taking out the AusMarine award for the "Best Multi-Purpose Workboat".